DIVE INTO A WORLD OF EVER-CHANGING COLORS 🌈
Experience the thrill of being the center of attention at the beach or pool with Color Changing Shorts™. While everyone else blends into the crowd with their mundane swim trunks, you'll be turning heads and sparking conversations with your unique and mesmerizing shorts.
These revolutionary shorts react to different water temperatures, morphing into an array of shades that will never be exactly the same! Imagine the delight on people's faces as they witness your shorts transforming before their eyes.
Don't settle for ordinary; embrace the extraordinary with Color Changing Shorts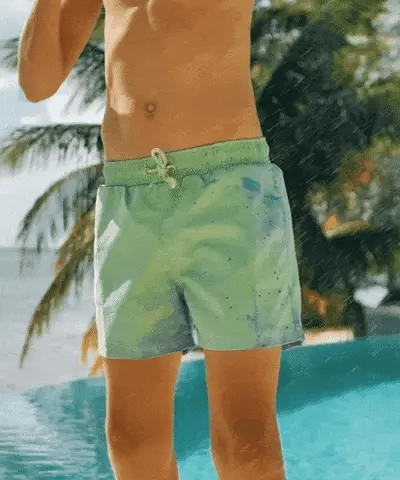 EMBRACE YOUR UNIQUENESS, EXPRESS YOUR STYLE 🩳
Say goodbye to conformity and embrace your individuality with Color Changing Shorts™. These shorts are the epitome of cool and contemporary fashion. When every guy at the pool is wearing the same old boring shorts, you'll effortlessly stand out from the crowd. The vibrant and ever-changing colors of Color Changing Shorts™ ensure that you'll never wear the same pair twice.
With thousands of color variations, you'll always have a fresh and exciting look every time you take a dip. Be the trendsetter, the fashion-forward icon, and make a lasting impression wherever you go.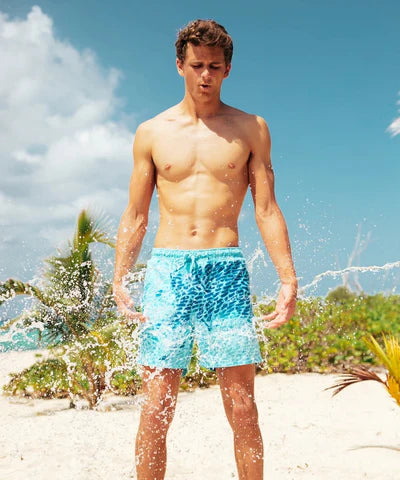 MORE FEATURES:
Unique Color-Changing Technology: Our proprietary fabric reacts to different water temperatures, allowing your shorts to morph into a dazzling spectrum of colors. Whether it's a warm summer day or a refreshing plunge into cooler waters, your shorts will come alive with vibrant and captivating hues.

Always Changing, Always Exciting: No two experiences in the water will be the same. Each time you dive in, your Color Changing Shorts™ will surprise you with a new color combination. Embrace the thrill of unpredictability and revel in the excitement of a never-ending visual feast.

Stand Out from the Crowd: With Color Changing Shorts™, you'll be the only one at the beach or pool sporting these extraordinary shorts. Command attention, ignite curiosity, and become a conversation starter as people admire your unique sense of style.

High-Quality and Durable: Crafted from premium materials, Color Changing Shorts™ are designed to withstand the elements and provide lasting comfort. Dive, swim, and play with confidence, knowing that your shorts are made to accompany you on countless adventures.